(This article by freelance writer Pam Windsor originally appeared in the September 2021 issue of Military Officer, a magazine available to all MOAA Premium and Life members. Learn more about the magazine here; learn more about joining MOAA here.)
When planes struck the World Trade Center on Sept. 11, 2001, then-Maj. Perry Blackburn, USA, was training with members of the 5th Special Forces Group. They were called back to Fort Campbell, Ky., immediately.
"At the time, I thought we were going to war," said Blackburn, who retired as a lieutenant colonel.
Within weeks, President George W. Bush announced the launch of what would become the global war on terror with air strikes against al-Qaida training camps and Taliban bases in Afghanistan. Shortly afterward, Perry's 12-man team became one of the first to put "boots on the ground" there. They were sent to Khost, close to the Pakistan border.
A Challenging Mission
"Khost was very volatile," Blackburn, a MOAA member, told Military Officer. "They had a significant threat in the area with al-Qaida, and [Osama] bin Laden could potentially be there."
The plan was to link up with the CIA, local warlords, and the Northern Alliance, and use the assets of the Air Force.
"We got on the ground, briefed our plan, got on a helicopter, took off, and linked up with a warlord who presented us [with] who he had," said Blackburn. "The CIA gave me a million dollars and kit bag. The money was to pay soldiers that were going to fight with us, and anything else I needed to equip them while we were conducting operations."
The Green Berets immersed themselves into the community, growing beards and dressing like locals. They fit in so well, they often had to wear ball caps so fellow Americans could identify them.
There were many challenges, like the language barrier and navigating the rough terrain. There were no Humvees or big military equipment, so Blackburn and his forces used Toyota trucks, ATVs, and even horses to move around the countryside.
"I think the colorful thing is … muscled, chiseled Americans sitting on small horses," Blackburn recalled. "As glorious as it looked and sounded, it was painful to us to do, and it was not something we looked forward to doing. We'd much rather be in our trucks than on a horse, but we would do whatever we needed to get to the enemy."
Initially, the only maps available were Russian maps; Afghans used no maps at all. At one point, Blackburn got a call from his commander notifying him he'd unknowingly ventured into Pakistan.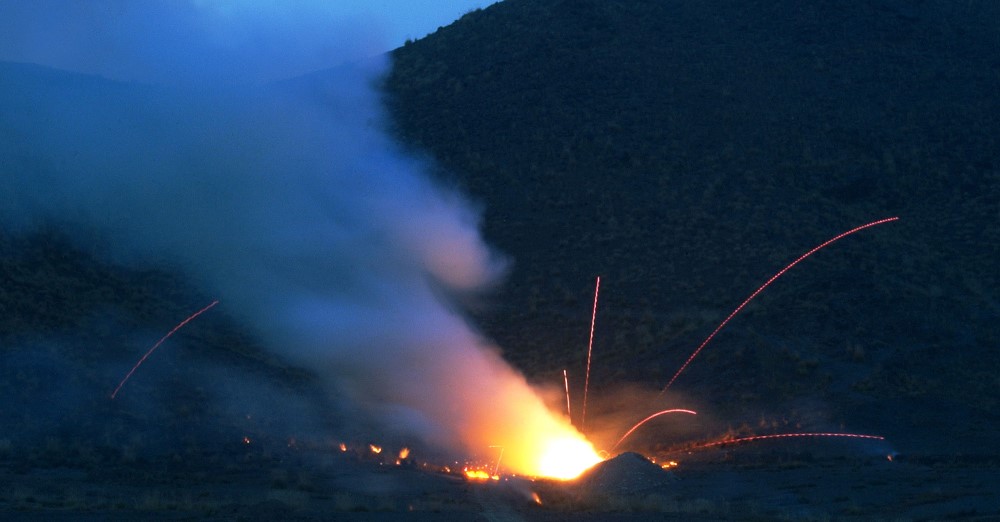 Tracer rounds explode as more than 1 million rounds of Afghan ammunition and rocket propelled grenade fuel are burned by members of the U.S. Army near Khost, Afghanistan, in October 2002. The ammunition had been collected by U.S. soldiers during raids on terrorist hideouts in Southeastern Afghanistan over the past several weeks. (Photo by Scott Nelson/Getty Images)
The map issue also affected his ability to properly call for air support.
"One time, I got so frustrated because we couldn't find the mark from the map," he said. "I was 100 meters from the enemy, and I ran out into an open area with a big orange panel."
He set it down, as the fighting continued around him. As his men engaged the enemy, Blackburn called the forward air controller.
"I said, 'If you can't see this orange panel, I don't need you!' So, they came down low, saw it, and said, 'Roger, I got it!' I told them, 'From that location — 500 meters or whatever it was, 63 degrees — that's where I need you to drop.' So they did."
Cultural differences also made things interesting. Blackburn worked with a warlord, Kamal Khan, whose showmanship could slow things down.
"Every time he would come in, he'd have to have an announcer that would say, 'Kamal Khan is the greatest commander that's ever walked in Khost,' and on and on. And you'd have to sit there and say, 'Okay, okay, I've got it.'"
They developed a rapport, however. Soon, Blackburn had nearly 900 Afghan fighters. Together with his 11 men, and four other 5th Group teams he brought in as company commander, they provided a formidable force, effective in restoring order to the region.
"We were extremely lethal in both our application of air power and our own weapons. The Afghans and the Taliban were astonished by our ability to shoot, move, and communicate with each other. It's one of the things they would cite when they surrendered."
Meaningful Sacrifices
While Blackburn's group focused on Khost, other special forces teams were conducting similar operations in other areas. He said the 2017 film 12 Strong accurately portrays their interactions with warlords and Afghan fighters. Although some of those teams rotated in and out, Blackburn's team remained in Afghanistan for seven or eight months and took part in Operation Anaconda in March 2002.
"This was the last big operation involving the 101st [Airborne Division] and the 10th Mountain Division, along with the SEALs and Delta Force, and we were all intermixed on the battlefield for the first time."
As the U.S. planned to withdraw from Afghanistan, Blackburn said much was accomplished. It's unknown, however, what direction the country will take. "I was in on the invasion of Iraq and one of the last guys out in 2010," he said. "Those of us on the ground knew the Iraqis were not prepared to defend themselves against an external threat. And sure enough, it didn't take long for ISIS to come in and start taking over. You think about the gains made and what the sacrifices were for.
"I don't want that to happen in Afghanistan," Blackburn continued. "These sacrifices meant something."
MOAA Looks Out For You
MOAA is committed to protecting the rights of servicemembers and their families. Lend your voice and support these efforts today. Because the larger our voice is, the greater our impact will be.